Turf for Every Application
Over the years, Synthetic Grass Pros have done hundreds of commercial turf landscaping projects from 500 square feet, to 50,000 square feet. Synthetic Grass Pros has the proper equipment and skill to install your artificial grass surface efficiently, quickly, and perfectly. We provide requested spec information that may be necessary to meet engineering specifications. We have documentation from third party testing labs and manufacturers. We are able to work directly with architects, engineers, and contractors, along with the owners, to find solutions to problem areas. In short, we are a proficient and experienced team that commits to the project
Benefits ofArtificial Grass Landscaping
Eliminates ongoing maintenance like mowing
No need for pesticides and fertilizers
Reduces allergic reactions
ADA compliant
Provides a mud-free environment
Natural green look year-round
Features of Synthetic Grass Pros Turf Landscaping
Various fiber types to choose from
Different fiber colors to match regional grass
Include thatch fibers
Large face weight options
Varying Pile Heights
Shine & Heat Block
"We have been working with Synthetic Grass Pros for many years and have enjoyed their quality of installation, communication and striving to do the job right the first time. This is very important in our business as they are representing our company, often, at the end of a project. Marco and his team have been responsive in times when an issue or warranty concern arises and is always willing to keep the customer first. We appreciate their installation crews hard work ethic and ability to get the project completed quickly. We would not hesitate to recommend their services."

Shane Jefferys, CPSI
The Playground Shade and Surfacing Depot
Featured Project Ronald McDonald House
Like any living thing, sun is needed to keep greenery and landscaping looking healthy. However, The Ronald McDonald House had a courtyard area that provided too much shade which led to muddy areas with no grass, which was not ideal for outdoor activities. Synthetic Grass Pros designed and built a beautiful outdoor courtyard space with artificial turf.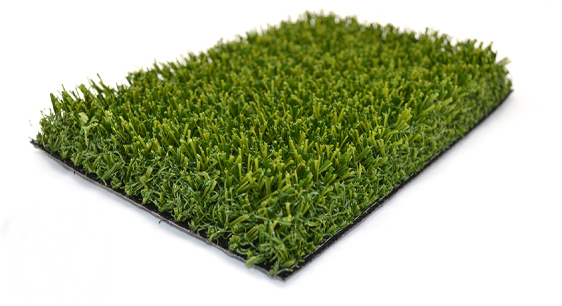 Recommended Product Luxury 1st Cut
A 1.25 inch pile, omega + S blades with thatch construction. Designed specifically for commercial landscape applications.
Commercial Landscaping Gallery

Synthetic Grass Pros is a part of The Recreational Group family of brands – Where we design, manufacture, and install innovative amenities that enhance the value of your facility, promote active lifestyles and make your space more fun. Discover how we can help bring your space alive.