Artificial Grass Putting Greens
Synthetic Grass Pros designs and installs artificial turf putting greens. Simulate tour quality putting greens in your backyard or for your business with industry leading synthetic grass golf solutions.
Benefits ofArtificial Grass Golf Putting Greens
Practice putting all year long
Great family or community amenity
Eliminates ongoing maintenance like mowing
Reduces allergens
No need for fertilizers or pesticides
Natural green look year-round
Features ofSynthetic Grass Pros Turf Putting Greens
Various fiber types to choose from
Different fiber colors to match regional grass
Include thatch fibers
Large face weight options
Varying Pile Heights
Shine & Heat Block
"Synthetic Grass Pros provided an incredible product. It is way better than I anticipated! We are very excited about our new putting green and side yard play area. We got several bids and realized that Synthetic Grass Pros had been in the business for a long time and really grasped the concept I was relaying to them. The design was better than I anticipated and the base they put down was way above and beyond what I expected! The crew is extremely knowledgeable and made small changes that made a big difference to the outcome of the project! I am extremely grateful to Synthetic Grass Pros for all their hard work, honesty and a great product!"

Russ, Homeowner
Featured Project AT&T Performing Arts and Opera House
Synthetic Grass Pros designed a custom outdoor artificial grass upgrade for the AT&T Performing Arts Center and Opera House. Utilized for a variety of activities, SGP built an outdoor putting green course that featured different fringe and putting turf, along with an open play artificial grass field that will be used for movie nights and more.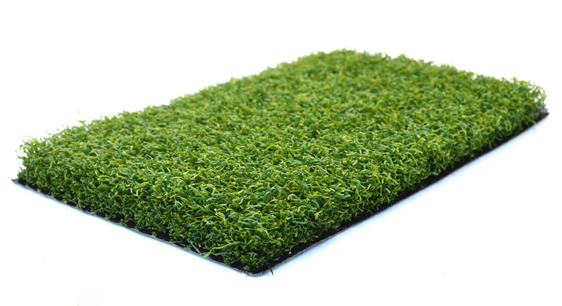 Recommended Product Short Game Elite
A 1.25 inch pile, PP blades with no thatch construction. Designed specifically for golf applications.
Artificial Grass Golf Gallery

Synthetic Grass Pros is a part of The Recreational Group family of brands – Where we design, manufacture, and install innovative amenities that enhance the value of your facility, promote active lifestyles and make your space more fun. Discover how we can help bring your space alive.